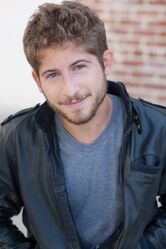 Alexander David Linz (born January 3, 1989) is an American actor, film director and film producer who portrayed Alex Pruitt in Home Alone 3.
Early life
[
]
Linz was born in Santa Barbara, California, the son of Deborah Baltaxe, an attorney, and Dr. Daniel Linz, a professor of psychology at the University of California, Santa Barbara. His parents are now divorced, and he lives with his mother. He has a younger sister named Lily Alice. Linz's mother is Jewish and Linz had a Bar Mitzvah when he was 13. He attended Alexander Hamilton High School in Los Angeles and graduated from the University of California, Berkeley, where he was a member of the improvisation and sketch comedy group, jericho!.
Career
[
]
Linz made his acting debut in 1995 on an episode of the television series Cybill. He subsequently appeared in several television productions, played Phillip Chancellor IV on the soap opera The Young and the Restless in 1995 for a short period of time, and was cast as the son of Michelle Pfeiffer's character in the 1996 film One Fine Day. In 1997, Linz replaced Macaulay Culkin as the lead actor in Home Alone 3, and voiced a young Tarzan in the 1999 animated film version. Linz had several starring roles in 2000s films aimed at younger audiences, including the 2001 comedy Max Keeble's Big Move, in which he played the title role, 2002's Race to Space, which received a minor theatrical release, and 2003's Hanukkah-themed made-for-television Disney Channel film Full-Court Miracle, in which he played the lead player in a Jewish school's basketball team. He was also, briefly, the voice of Arnold in the extremely popular Nickelodeon cartoon Hey Arnold! for the last two episodes, titled "April Fools' Day" and "The Journal". Linz appeared in the comedy The Amateurs, starring Jeff Bridges. The film was made in 2005. His most recent credit is in the 2007 drama Choose Connor, starring Steven Weber.
Trivia
[
]
Linz started his acting career when he was young.
Linz voiced young Tarzan in the Tarzan movie and video game.
Its unknown if Linz will get a part in a movie today or in the future.
Linz voiced Warrior Talon in The Lord of Talon, The Lord of Talon 2, The Lord of Talon 3 & The Lord of Talon 4 and video games.