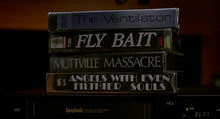 Angels with Even Filthier Souls is a fictional gangster film that Kevin watches and uses in Home Alone 2: Lost in New York, and is a sequel to "Angels with Filthy Souls".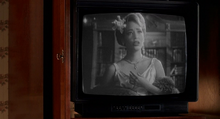 The film starts with the gangsters moll Carlotta, wearing a 1930's satin evening gown and fur stole, as she walks into gangster Johnny's appartment. Johnny is sitting there next to a Christmas tree, wearing a tuxedo and smoking a cigarette.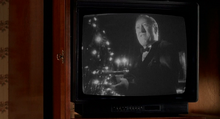 The film is about Johnny accusing his girlfriend Carlotta that she was smooching with his brother and many others. She denies it, and he grabs a Tommy Gun from under the Christmas tree and makes her beg for her life on her knees. She tells him he is the only one for her and he gives her 3 seconds to escape. At the count of two he murders her with bullets, wishing her a merry Christmas and a happy new year.
The film is used by Kevin to escape from the hotel room. He plays only the dialogue of Johnny from the film, and accuses the concierge Mr. Hector of being in the hotel room before, smooching with his brother and a number of other people. One of them is called Cliff, who by coincidence, happens to be one of the guards. The staff ends up crawling out of the room shouting that there is an insane guest with a gun.
External links
Edit
Community content is available under
CC-BY-SA
unless otherwise noted.