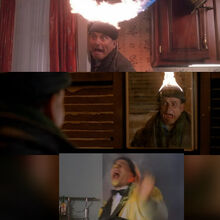 Fire was a consequence of the chemical process of combustion. It released heat, light, smoke, and other reaction products from a burning object.
Kevin McCallister was familiar with fire. He set Harry Lyme's head on fire twice with his booby traps and used matchsticks on fireworks and a kerosene-soaked rope.
Kevin first lit Harry's head with a blow torch he had set up in the back door to his home, and he again ignited Harry with a propane tank in the bathroom of Rob McCallister's brownstone house. Harry panicked both times at his burning head, extinguishing the fire in snow when he attempted to break into the McCallister home and accidentally causing an explosion in Rob's townhouse by placing his head in a toilet filled with gasoline.

Community content is available under
CC-BY-SA
unless otherwise noted.