Harry Lyme is an unseen character in Home Alone 4 and is the former accomplice of Marvin Murchins.
Biography
Background
Harry Lyme along with his partner in crime Marv worked as burglars robbing houses, but on more than one occasion their plans were always scuppered by a kid named Kevin McCallister, resulting in the pair of them always being caught and incarcerated. Marv grew tired of always being locked up and severed ties with Harry, who was the boss and always made the decisions. Marv would later partner up and marry a woman named Vera, who would become his new accomplice.
Home Alone 4
Harry is never seen during the film, but is mentioned when Marv and Vera watch the residence of Natalie. Vera ponders if Marv would be able to cope without Harry making the plans, however Marv points out that Harry's plans always resulted in them being imprisoned. At this point Marv moved away from burglaries and instead plotted to kidnap the Prince of the Royal Family who would be visiting. Marv felt happy that he was now finally the "boss", although in actual fact he was working under his mother Molly.
Trivia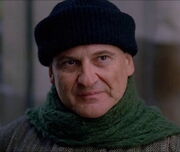 Harry goes unseen during the film, which itself shares a very loose continuity with the original two Home Alone movies. In these two films, he was portrayed by Joe Pesci.
Marv's appearance in Home Alone 4 resembles a taller Harry, complete with similar attire like his coat and hat.
On the other hand, Joe Pesci wasn't offered to reprise his role as Harry. Instead, Harry's name was only mentioned.
Community content is available under
CC-BY-SA
unless otherwise noted.