Kate McCallister is the mother of Kevin, Buzz, and Megan McCallister. She is portrayed by Clare Carey.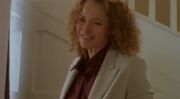 Peter and Kate have separated and are soon filing for a divorce; Kate is now living with Kevin, Buzz, and Megan. When Buzz and Megan are sitting on Kevin, Kate tells them to get off of him, and then tells Megan to rehearse. She then goes out and leaves Kevin and Buzz home and tells them to do some chores. When she arrives back home she asks Kevin how it went; Kevin tells her that it went very awful (thanks to Buzz). She receives a phone call from Peter that Kevin got to his and Natalie's house safely, much to her dismay.
She gets to meet Natalie on Christmas Eve, before Natalie and Peter get ready for their party and bring the royal family the next day. After trying to speak with Kevin during static over the cellphone, she tries to get in touch with him again on the house phone, in which Molly lies saying he's with his father and Natalie, while he's in the basement with Mr. Prescott, until they use the dumbwaiter to escape. She tries to call Peter about Kevin, but he assures her that everything is okay at Natalie's place.
She, Buzz, and Megan head out to Natalie's to see if Kevin is okay, and that he's caught the bad guys, Marv and Vera. After Marv and Vera try to escape, Buzz and Megan going around the back to trip and hold them down until the police arrive. Both Kate and Peter hug Kevin in apology for not believing him about the bad guys in the first place.
After Natalie arrives to see that Marv and Vera are being taken into custody by the police, she is stunned to even believe that her maid, Molly, is also being arrested for being the mastermind behind their scheme. Natalie tries to get Peter to do something about the situation, and Peter admits that everything at her place was meant more for her than for him. He comes clean about it and says that the entire time, all he ever did was miss his family, and decides that his place is with Kate and his kids; with that, he decides to reconcile with Kate. Kate says, "I love you," which he says back to her.
The royal family decides to celebrate their Christmas with the McCallisters, which Peter allows, leaving Natalie heart-broken and hyperventilating and being given her last sack by Mr. Prescott just on the very day he resigns. The McCallisters and the royal family then celebrate what Kevin believed would be "the best Christmas ever."