King and Queen are the parents of The Crown Prince in Home Alone 4.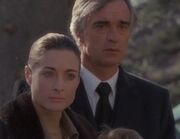 King and Queen planned to visit a rich woman named Natalie in the United States for the Christmas period along with their son Prince Gordon. Originally they were supposed to arrive on Christmas Eve but their flight was cancelled, delaying it to the next day (Christmas Day). Natalie and her fiancé Peter McCallister went to pick them up, although Peter got a taxi home as he worried about his son Kevin. Natalie collected the Royal Family and they headed back to her mansion. Unknown to them however, Natalie's maid Molly, her son Marv and his wife Vera have already plotted a scheme to ambush the family abduct their son, Gordon. Kevin later foils this scheme.
When Natalie becomes horrified upon the arrest of Molly, a detective informed her of the crime and reveals that Molly was the mastermind. Queen asked him what they could do to repay them. Kevin asked the Royals if they wanted to join his family instead for Christmas, which pleased Gordon. The Royals then agreed to spend time with the McCallisters, much to the distress of Natalie whom Peter decided to leave to go back to his wife and kids.
In reality, there can't be both a King and a Queen for the British Royal Family.
In real life (and at the time the film was released) Queen Elizabeth II still served as the Queen of Great Britain, who is significantly older than the Queen portrayed in the film, and in reality he children are grown up. As of 2019 she is still the monarch.
Community content is available under
CC-BY-SA
unless otherwise noted.