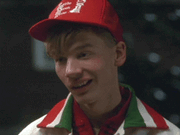 A young unnamed delivery man was an employee of Little Nero's Pizza in the first Home Alone movie. He appears in the beginning of the movie, delivering a large amount of pizzas to the McCallister house before their trip to Paris, and knocks over the statue in the process. He asks Harry (who is disguised as a police officer) if he's ordering the pizza to which Harry responds that he doesn't live in the house. Then the pizza guy asks if he's just around for the holidays. He asks Frank for the money, but Frank says that it's his brother's house and he will take care of it. When Kate is about to take Kevin to the third floor, she gives the pizza guy the money. Later on in the film, he knocks over the statue once again before delivering Kevin his cheese pizza. Kevin uses the "Angels with Filthy Souls" movie quotes to speak with him, using Johnny's lines and pausing out Snakes' parts, making the pizza boy believe that Johnny lives in the house. He replies sarcastically until the end when he is scared. At the end of his scene, fake gunshot noises are heard and he runs off while falling in the process. He is never seen again in any other scenes.
Community content is available under
CC-BY-SA
unless otherwise noted.