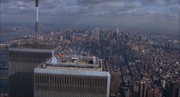 New York City is a city in the USA and one of the biggest cities in the world. It's the main setting in the second film. The McCallister family are about to go to Florida. However, Kevin accidentally gets separated in the airport while searching for batteries in his father's bag and takes the flight to New York after following a man that looks exactly like his father. He discovers that he got his wish once again as he enjoys the city and stays at the Plaza Hotel, but soon runs into the same burglars who tried to rob his house in the previous film after getting caught for using a stolen credit card, and stops them from robbing a toy store by setting up traps at his uncle's house, which is being renovated. Fortunately, the McCallister family discover that Kevin is found in New York after the police contacted the McCallister family that they have located Kevin in New York by tracking Peter's credit card, which prompts them to go to New York and confront the staff of the Plaza Hotel for letting Kevin check-in without an adult and scaring him off before staying at the hotel with Kate searching for Kevin in New York, alone. After Kevin successfully stops the burglars from robbing a toy store, Kevin goes to the biggest Christmas tree at the Rockefeller Center where Kate finds Kevin there after remembering Kevin's liking for Christmas trees as the two reconcile before going back to the hotel with Kate telling Kevin that the rest of the family didn't like the palm trees and staying in Florida just like Kevin.
Community content is available under
CC-BY-SA
unless otherwise noted.