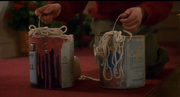 Paint cans were buckets filled with paint, which were typically used to coat walls or other structures.
Kevin McCallister used these as booby traps against Harry and Marv at staircase locations, once in his home and again in Rob McCallister's home. In both cases, Kevin would tie the paint cans to the upper floor's railing with a rope and deploy them just above the burglars. They would swing down and hit Harry and Marv in the face, knocking them down the stairs with their momentum.
Kevin successfully deterred Harry and Marv with the paint cans at his home, but knew a year later that they would not fall for the same trick at his uncle's townhouse, so he threw a pipe at them in the same fashion after humoring them with the buckets.