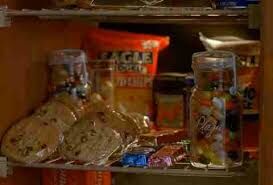 Kevin checks in the Plaza Hotel in the second film in New York City.
History
[
]
After accidentally being separated from his family who were on their way to Florida, Kevin stayed at the hotel for one night. The next day, he eventually gets caught using a stolen credit card before Kevin escapes the hotel and falls into the wrong hands of Harry and Marv who robbed his house a year ago. Kevin's family entered the hotel and confronted the staff for letting Kevin check in without an adult and scaring him off before eventually staying at the hotel while Kate goes to find Kevin alone.
On Christmas morning, a truckload of gifts from Duncan's Toy Chest were delivered to hotel to give to not only Kevin as a reward for foiling the robbery, but also to his family as well. After the room service bill for Kevin's first stay in the hotel is received to Kevin's family, Buzz discovers the bill and asks his father to come take a look at the bill, which causes Peter to scream, "Kevin, you spent $967 on room service?!".
People
[
]
Staff
[
]
Guests
[
]
Trivia
[
]
The number of the Plaza that was used in the film was its actual working number
Donald Trump was the owner of the Plaza around the time the film is set. He allowed filming on the property if he was given a role in the film. The producers agreed on it and he accepted a cameo role as himself, checking on the operations of his business.
For the scene where Kevin evades Mrs. Stone by sliding underneath her, the production removed the carpets near the elevators so Macaulay Culkin could slip and slide. Plaza Hotel owner Donald Trump liked the new look and requested that it be left that way when production ended.
The concierge lobby and check in area seen in the film as well as the Room 411 suite where Kevin stayed on his first try of the Plaza is now part of the Plaza residences as the hotel has been remodeled following its takeover of Elad Properties.
Although the Plaza has penthouse suites in real-life, the penthouse suite in the end of the film was shot at the Conrad Hilton Suite at the Hilton Chicago.
After the release of the second film, bookings at the Plaza skyrocketed. Every Christmas season, the Plaza offers the Home Alone 2 package.