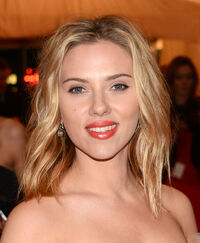 Scarlett Ingrid Johansson (born November 22, 1984) is an American actress. During her years, she has done many works in many movies.
Biography
[
]
Scarlett Johansson was born in New York City, New York on November 22, 1984. Her father, Karsten Johansson, is a Danish-born architect originally from Copenhagen, and her paternal grandfather, Ejner Johansson, was a screenwriter and director. Her mother, Melanie Sloan, a producer, comes from an Ashkenazi Jewish family from the Bronx. Melanie's ancestors emigrated to New York from Minsk, Tsarist Russia. She has an older sister, Vanessa, also an actress; an older brother, Adrian; a twin brother, Hunter (who appeared with her in the film Manny & Lo); and an older half-brother, Christian, from her father's first marriage. Johansson grew up in a household with "little money", and with a mother who was a "film buff". She and her brother, Hunter, attended P.S. 41 in the upper-middle-class Greenwich Village neighborhood, in Manhattan, for elementary school. Johansson began her theatrical training by attending and graduating from Professional Children's School in Manhattan in 2002.
Career
[
]
Scarlett's first act in a movie called North in 1994. She was considered for the role of Judy Shepherd in Jumanji, but the role was given to Kirsten Dunst. She played Molly Pruitt in Home Alone 3, Mindy in the SpongeBob SquarePants movie, and played Natasha Romanoff/Black Widow in the Avengers movies. She also played Ash in Sing. She performed on Saturday Night Live for 5 episodes from 2006 to 2010. She won many awards during her acting career expect for the Golden Globe Awards, People's Choice Awards, and Teen's Choice Awards. Today, Scarlett is one of the most popular actresses in all of the movie studios.