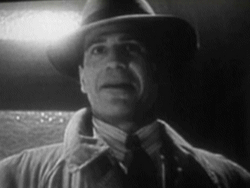 Snakes is a gangster in Angels with Filthy Souls. He is told by his boss, Acey, to go to Johnny's office to get some cash. He was played by Michael Guido.
Angels With Filthy Souls (Home Alone)

[

]
Kevin watches Angels with Filthy Souls (which his uncle would not let him watch the night before), and after Johnny kills Snakes, Kevin gets startled, pauses the movie, and calls for his mother.
While Kevin is paying for his pizza, he fasts forward through Snakes' parts in order to use Johnny's speaking voice to communicate with the pizza guy.
Snakes and Johnny are last seen when Kevin plays the part where Johnny kills Snakes and lights some firecrackers in order to scare Marv Murchins, who seems to recognize Johnny's voice and told Harry that "[Snakes] sounded like a snake".
Trivia
[
]
It's implied that Marv has seen Angels with Filthy Souls before since he recognized Johnny's voice and even heard the name Snakes before.