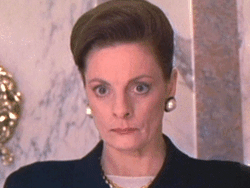 Ms. Stone is a supporting character in the 1992 film Home Alone 2. She works as the desk clerk at the New York City Plaza Hotel. She is played by Dana Ivey in the movie.
After Kevin makes a reservation at the Plaza Hotel by pretending to be his dad, he goes to the front desk where Ms, Stone works at and when she asks "Can I help you?" Kevin replies "Reservation for McCallister?", to which Ms. Stone replies "A reservation for yourself?" Kevin explains to Ms. Stone that he's traveling with his dad Peter who's on business, and that his Dad dropped him off at the hotel and gave him his credit card to check into the hotel so he won't get into mischief, to which he hands Ms. Stone his Dad's credit card. She believes him and has him checked into a hotel room, although she eyes him with suspicion, and before Kevin leaves, she tells him to remind his Dad that when he arrives that he needs to come down and sign a couple of papers.
Appearence
Ms. Stone wears her dark brown hair up in a small French Twist, wears a black suit with a coat with shoulder pads, a skirt, tights, black high heels and red lipstick, all emphasizing her femineity and elegance. She has an action figure like body.