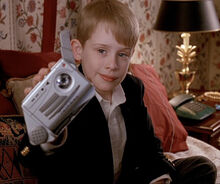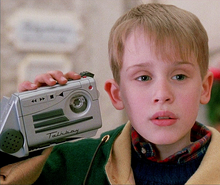 Talkboy was a line of portable audiocassette recorders manufactured by Tiger Electronics. It could record sounds around it and play back recordings or music.
Kevin McCallister owned one of these before his trip to New York City. It not only caused him to lose sight of his family in the Chicago airport and prevented him from realizing earlier that he boarded the wrong flight, but also became essential to his survival in the city while away from the rest of his family.
He posed as his father with the Talkboy while checking into the Plaza Hotel, drove Hector away with a previous recording of his uncle Frank singing in the shower along with an inflatable Bozo the Clown, and recorded Harry Lyme and Marv Murchins's plan to rob Duncan's Toy Chest and murder him afterwards in an audio tape that the New York Police Department confiscated from the burglars in Central Park.
Community content is available under
CC-BY-SA
unless otherwise noted.